Rick Schein's Home Page
---

BASIC INFORMATION
I need to explain these are not current pictures. One was taken in lovely Maplewood, New Jersey and the other "Down the Shore."
I now live in the mountains of Colorado and I'm still shoveling snow. I built the first house on the street and in a stroke of ingenuity the developer (with a sense of humor) came up with Harvest Moon Trail. Thus I am indeed the real Schein on Harvest Moon.
Running away from New Jersey I attended the University of Southern California. Graduating as an Electrical Engineer I joined IBM and spent eleven years there. Changing locations within IBM [I've Been Moved :-)] across the country I ended up in Tega Cay, South Carolina. A small town just over the South Carolina border from Charlotte, North Carolina.
I was president of a small computer company, Network Controls International in Charlotte, North Carolina, before moving here to the Rocky Mountains. I now live near a smaller town, Silverthorne, Colorado, in the county with the best ski areas in the world. Going skiing is a much better way to use one's time than going to work.
I spent time as a computer consultant and ski bum. I found that at a very young age, it was an occupation for which I had a skill. The first machine to which I was exposed was the IBM 1620. This fine machine had no circuitry for addition/multiplication. It had tables in memory in which it looked up the answers. It's code name was "CADET" [Can't Add Doesn't Even Try]
I can still work on the IBM 4700 Finance Communication System. I am one of the few people in the world that understand SETFPL and why. [Arcane so if you don't understand you are one of the other 6 billion]
It was mostly database design, web design, system selection and installation for customers all over the world. Fun but it cuts into my spare time. I was tossed out of bumdom because I was doing too much consulting work. I guess it is a rule of the mountains that you cannot be a real bum and work.
I've have been a Search and Rescue Mountain Mission Pilot for the Civil Air Patrol for that last 27years and have over a thousand hours of low level search activity. Of course low level in the Rocky Mountains (8,000-14,000 ft) is higher than most light aircraft in the country fly in cruise.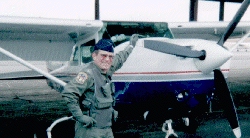 Yes .... I spent several weeks flying around the mountains looking for an errant A-10 in April 1997. No .... I don't know what happened. Most do not remember the incident.
I am now flying in the Surrogate Unmanned Aircraft program (Green Flag) helping to train JTAC's. (Joint Terminal Attack Controller) These are Air Force personnel attached to ground units that direct the operation of aircraft used in a Close Air Support role. In our aircraft we have three crew members; Pilot, Mission Coordinator, and Sensor Operator. I'm qualified in all 3 seat positions. In this image I'm on the right (Mission Coordinator Seat) working with the pilot to set up the aircraft for an approach to an interesting area. [We do a lot of night work]
I have spent some time as a cargo pilot flying a PA-31 Navajo Chieftain carrying freight to small towns in Wyoming, Nebraska, Kansas, and Colorado. Flew for Sky Ark moving rescue dogs from shelters too crowded to better accommodations.
My flying career (italics mine) progressed from boxes, to puppies, to people. I flew for Salmon Air, a small commuter airline (www.salmonair.com). I was one of the captains based in Moab, Utah flying the Essential Air Service contract from Moab to and from Salt Lake City; twice a day, 4 days a week.
I'm retired from Endeavor Air (www.endeavorair.com) [Formerly Pinnacle Airlines, Inc.] a wholly own subsidiary of Delta Airlines. I was flying a CRJ200, a 50 seat passenger jet, based in Detroit travelling over most of the US and eastern Canada. When I started , a while ago (see hair below), it was the CRJ200 and then moved to the CRJ900 from an Atlanta base with the Caribbean area added to the flight area. Back to Detroit in the left seat (Captain) and all the places we travelled to from there. As I was finishing up (literally) I qualified back to the CRJ900 as Captain (Bottom Picture).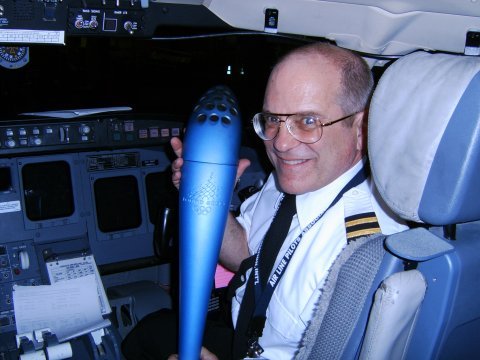 a
Yes, I'm carrying the Olympic torch! It seems on the journey from Torino to Vancouver the little thing just missed a flight [never happens to anyone I know!] and was stranded in St. Louis. We were asked to carry it to Minneapolis so it could continue on its journey. a) It was out and b) I did not have to hold it up the whole flight
I am currently a "Man at Leisure." No aircraft too small to fly. No party too small to attend.
WHERE I HAVE FLOWN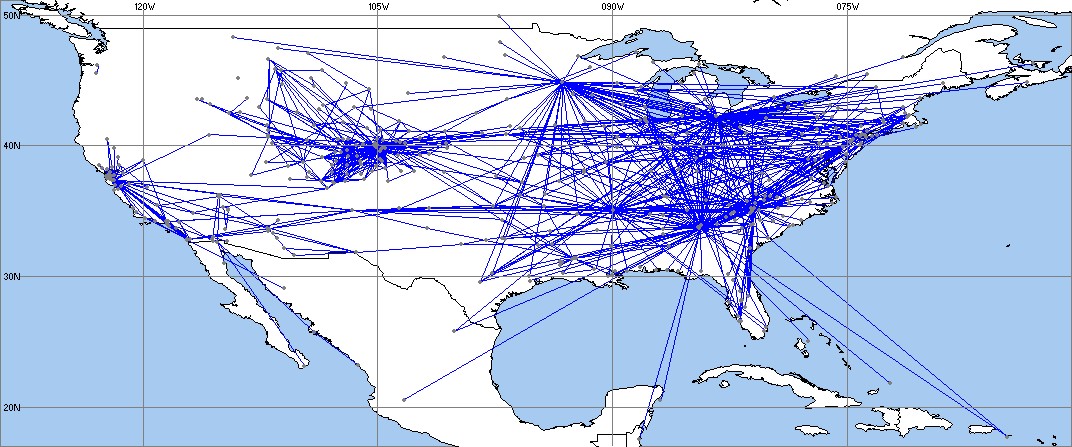 This will just show where I have flown in all sorts of aircraft (36 kinds). I've flown out of San Jose, Ca, Charlotte, NC, Denver CO, the Delta airlines hubs of Detroit, Minneapolis, Memphis and Atlanta (The World's busiest airport -- except when it snows). Total Mileage Flown between airports 1,920,089 nm. [Computerized logbook] I have left out the Alaska flying. It has been around Talkeetna on land, water and snow.
Top 10 Operational (T/O or Landing) Locations
1. Atlanta ... 773
2. Detroit ... 543
3. Salt Lake City ... 478
4. Denver ... 464
5. Moab ... 449
6. Charlotte ... 292
7. San Jose ... 260
8. Memphis ... 154
9. Alexandria ... 125
10. Houston ... 117